We at The Bulldog are aware of the fact that there are many infringing and counterfeit products of our brand available in the market.
We also are aware that (besides products like t-shirts and grinders) dangerous smoking-products are sold with The Bulldog logo on it.
For now we would like to inform you about these fake vaporizers, vape pens and so called 'The Bulldog Tobacannabis' that have been popping up around the world.
This is truly worrying as we do not produce or sell any of these products. Although these items are branded with The Bulldog logo, these are NOT our products.
Click on the picture below to view the fake products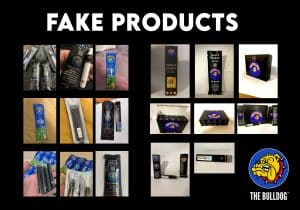 Recently it has been confirmed by the Israeli Ministry of Health, who determined by laboratory testing that these vape pens do not contain Cannabis or THC at all.
They do contain the synthetic cannabinoids MDMB-4en-Pinaca and ADB-Butinaca.
The Ministry of Health even published an urgent warning to the public following these findings as these synthetic cannabinoids can cause severe health problems.
Click here to read the statement.
Please know that it is unclear where these products are manufactured and that they are filled with dangerous goods that can cause severe health problems.
Of course we are doing our best to get these items out of the market, but this is easier said than done.
If you ever come across one of these or similar items: we strongly advise you to stay away from using or purchasing these products!
For any questions regarding fake products, please contact us via info@thebulldog.com